Category: Arts & Humanities, Tufts University
3 results
Results
was born May 28, 1894 in Sterling, Massachusetts. One of four children, Donald had an older sister and brother, Josephine and Malcolm, and a younger sister Jean. A graduate of Medford High School, class of 1912 and Tufts College, class of 1916, Donald turned his love of modern languages into a profession of school teacher. These two interests led him to France in 1920, onto Germany in 1922, and then back to France. He opened a school in 1924 in St. Cloud outside of Paris and firmly established himself in the realm of international education in France.
♥ 0
449 reads
Holmes was a part of many different and overlapping worlds. His poetry and other literary endeavors constitute one such world, but there were also worlds of family, friends, colleagues, his lifetime relationship with Tufts, as well as the realities of the larger world. These exhibits provide insights into some parts of Holmes' world, primarily through his poetry.
As a teacher and mentor of young poets, Holmes was concerned about imparting the work of writing poetry to his students. Using drafts and notes as well as letters and sketches which are contained in the collection, this exhibit traces the evolution of several poems from first draft to finished product.
♥ 0
422 reads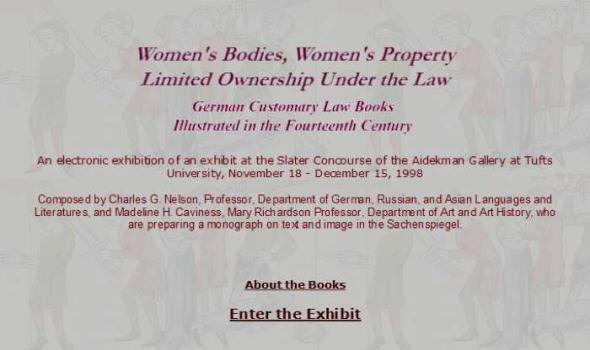 The Sachsenspiegel or Mirror of the Saxons (1220-35) is a collection of customary laws compiled by Eike von Repgow (1180-1235). Encouraged by his overlord, Hoyer von Falkenstein , from Saxon high nobility, he produced a German version of his own (lost) Latin original. Their purpose was to textualize, and thus to stabilize what up until the 13th century had been a long oral tradition of regional jurisprudence. The Sachsenspiegel is divided into two parts, one concerned with laws regarding the management of fiefs, the Lehnrecht , and the other with more general laws, the Landrecht , or regional law.
♥ 0
322 reads