Environmental science
Have questions? Project Title: Idaho Waters Digital Library About the Project: The Idaho Waters Digital Library provides access to information resources relating to water issues in key Idaho river basins. The collection presently includes scientific and technical reports, with an emphasis on Idaho Water Resources Research Institute reports and publications. This centralized digital repository provides a searchable interface for discovery and utilization of water resources documents. As funding sources are identified, this collection will continue to grow in size and scope. Digitized materials from this collection are also available through the Western Waters Digital Library .
♥ 0
1,344 read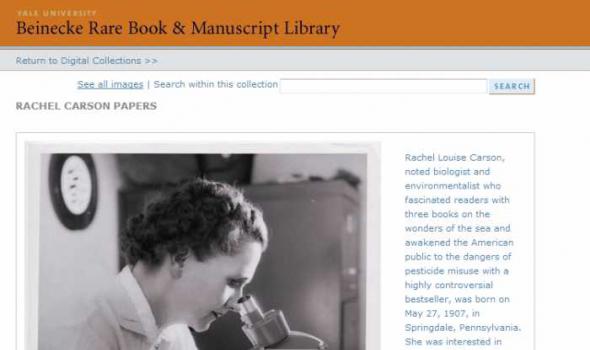 Rachel Louise Carson, noted biologist and environmentalist who fascinated readers with three books on the wonders of the sea and awakened the American public to the dangers of pesticide misuse with a highly controversial bestseller, was born on May 27, 1907, in Springdale, Pennsylvania. She was interested in writing at an early age and submitted a number of juvenile stories, poems, and essays to leading youth magazines. Rachel Carson's first book, Under the Sea Wind , attracted little notice on its appearance in 1941. However, her second book on the sea, The Sea Around Us (1951), remained on the best-seller lists for eighty-six weeks, was eventually translated into thirty languages, and received many awards.
♥ 2
1,444 read
Welcome to the Digital Library for Earth System Education A free service Thank you for your interest in DLESE. This overview is intended to provide you with very general information about DLESE and the library's organization. As always, we welcome your comments and suggestions. Please direct them to support@dlese.org . Browse the Library resources and collections What is DLESE? DLESE is the Digital Library for Earth System Education, a free resource that supports teaching and learning about the Earth system. DLESE's development was funded by the National Science Foundation and continues to be built by a distributed community of educators, students, and scientists to support Earth system education at all levels.
♥ 8
7,491 reads