Medieval culture
General Introduction The purpose of these brief introductory remarks is to tell you, first, what kind of information you can find on this website and, second, how you can retrieve this information. The core of the whole site is a scholarly database. This database contains all kinds of information about the illuminated medieval manuscripts of the Koninklijke Bibliotheek and the Museum Meermanno-Westreenianum. You can get access to this 'electronic catalogue' in various ways. When choosing your way, your own expertise and wishes should guide you. If you do not routinely consult databases and your interest in medieval illumination is not a professional one, you may start with our guided tour.
♥ 1
1,145 read
History of Medicine Our exhibit celebrates the medieval manuscript holdings of the National Library of Medicine, particularly our 12th-century English manuscript, Treatises on Medicine, lost for nearly 50 years and recently returned. In its honor, we have focused on medicine and medical literature in medieval England, on the sources and transmission of the manuscript texts, and on their later manifestations. The 12th century, when our manuscript was written, saw exciting developments in many areas of western European culture. New ideas infused the practice of architecture, music, poetry, and theology. The great European universities were beginning to take shape.
♥ 2
1,037 read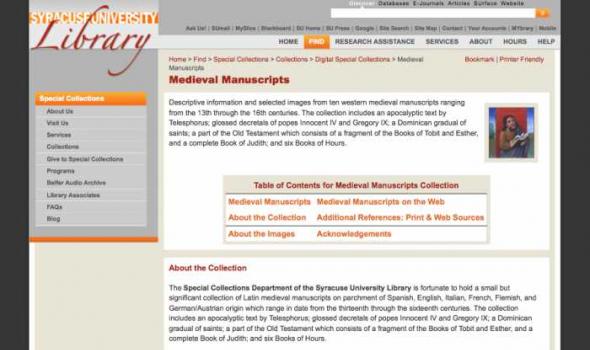 Medieval Manuscripts Descriptive information and selected images from ten western medieval manuscripts ranging from the 13th through the 16th centuries. The collection includes an apocalyptic text by Telesphorus; glossed decretals of popes Innocent IV and Gregory IX; a Dominican gradual of saints; a part of the Old Testament which consists of a fragment of the Books of Tobit and Esther, and a complete Book of Judith; and six Books of Hours. About the Collection The Special Collections Department of the Syracuse University Library is fortunate to hold a small but significant collection of Latin medieval manuscripts on parchment of Spanish, English, Italian, French, Flemish, and German/Austrian origin which range in date from the thirteenth through the sixteenth centuries.
♥ 0
1,545 read