Prose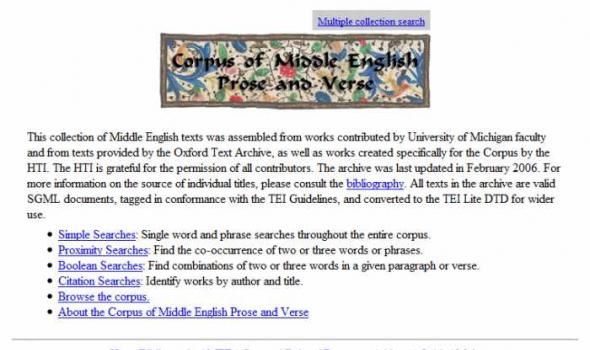 This collection of Middle English texts was assembled from works contributed by University of Michigan faculty and from texts provided by the Oxford Text Archive, as well as works created specifically for the Corpus by the HTI. The HTI is grateful for the permission of all contributors. For more information on the source of individual titles, please consult the bibliography. All texts in the archive are valid SGML documents, tagged in conformance with the TEI Guidelines, and converted to the TEI Lite DTD for wider use.
♥ 0
1,002 read
Collection Description 35,000 Items (164.5 linear feet) Access: Some restrictions. Contact curator. James Ingram Merrill was born in New York City on March 3, 1926, and grew up in Manhattan and Southampton. He was the son of Charles Merrill, co-founder of the brokerage firm Merrill Lynch, and his second wife, Hellen Ingram. He began writing poems at as a child, and at age sixteen, while he was in prep school, his father had a book of them privately printed under the title Jim's Book . Merrill's studies at Amherst College were interrupted by service in the U.S. Army from 1944 to 1945. Another book, The Black Swan , was privately printed in 1946 while he was still in college. Following his graduation in 1947, he taught for a year at Bard College.
♥ 0
911 reads
Jackson Bibliography of Romantic Poetry By J.R. de J. Jackson This bibliography, which is based on first-hand examination of copies, aims to provide descriptions of all extant editions of all verse in English published for the first time between 1770 and 1835, amounting to approximately 23,000 volumes. The only significant restriction is that "volume" is defined as consisting of at least ten pages; the inclusion of books that mix prose and verse depends on their containing at least ten pages of verse that was not published before 1770. The bibliography is searchable by a number of headings: please see the Introduction for a detailed explanation. We welcome your comments and suggestions . NOTE: At the time of his death in April 2011, J.R. de J.
♥ 0
926 reads