Category: Video, Academia
3 results
Results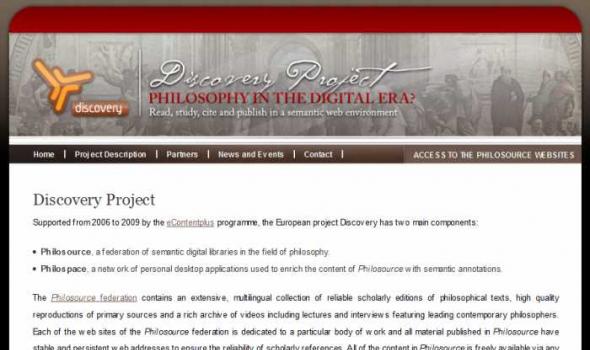 Discovery Project Discovery Project Supported from 2006 to 2009 by the eContentplus programme, the European project Discovery has two main components: The Philosource federation contains an extensive, multilingual collection of reliable scholarly editions of philosophical texts, high quality reproductions of primary sources and a rich archive of videos including lectures and interviews featuring leading contemporary philosophers. Each of the web sites of the Philosource federation is dedicated to a particular body of work and all material published in Philosource have stable and persistent web addresses to ensure the reliability of scholarly references.
♥ 0
1,148 read
About Scholars' Bank Welcome to Scholars' Bank , an open-access digital repository created to capture, distribute and preserve the intellectual output of the University of Oregon. Scholars' Bank is maintained by the University of Oregon Libraries, under the coordination of Digital Library Services . Using the open-source software DSpace, available from MIT and Hewlett Packard, Scholars' Bank provides stable, long-term storage needed to house the digital products of UO faculty and researchers. If you are interested in starting a community or contributing to an existing community contact a Scholars' Bank representative at scholars@uoregon.edu .
♥ 0
7,887 reads
Mission The purpose of the UO Channel is to provide a gateway to streaming media at the University of Oregon. Programming featured on the main UO Channel site is to reflect the University's dedication to "…the highest standards of academic inquiry, learning, and service…" Criteria include: General guidance for the UO Channel is provided by an Advisory Board with representatives from: Announcements Welcome to the 2011 UO Academic year! The UO Channel is now compatible with iOS devices: iPhone, iPad and iPod. Viewing our video on your mobile device is simple - browse to your selection, and press play!
♥ 0
921 reads