Category: Arts & Humanities, Broadside
3 results
Results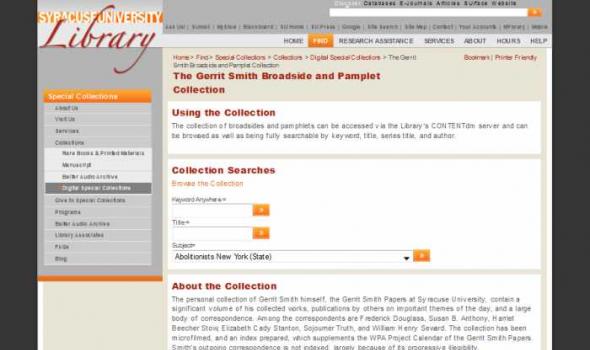 The Gerrit Smith Broadside and Pamplet Collection Using the Collection The collection of broadsides and pamphlets can be accessed via the Library's CONTENTdm server and can be browsed as well as being fully searchable by keyword, title, series title, and author. Collection Searches About the Collection Included among the publications authored by Gerrit Smith are various circulars, speeches, sermons, and tracts which deal with such topics as abolition, suffrage, temperance, transportation, and the postal system. With this project, we can now provide full text access to 214 of these important publications.
♥ 2
1,541 read
The Bodleian Library has unparalleled holdings of over 30,000 ballads in several major collections. Broadside ballads are important source material for:
popular literary history
music history
social history
art history
printing history
The Broadside Ballads project, undertaken with funding from the NFF Specialised Research Collections initiative, aims to make the ballads and ballad sheets available to the research community.
♥ 2
1,174 read
Center for Digital Initiatives Box A, Brown University Providence, RI 02912 (401) 863-2817 About This Collection Broadsides are single-sheet publications, often issued as ephemera or announcements. The Harris Broadsides Collection is a comprehensive collection of American poetry published in broadside format from colonial times to the present. The collection offers materials covering a broad spectrum of American life, and includes poetry of every description: 18th and 19th century ballads, verse describing newsworthy events, poetic effusions of sentimentality and patriotism, comic verse, and much more. When completed, this digital project will include over 20,000 titles.
♥ 1
1,190 read