Category: Business & Reference, Speeches
3 results
Results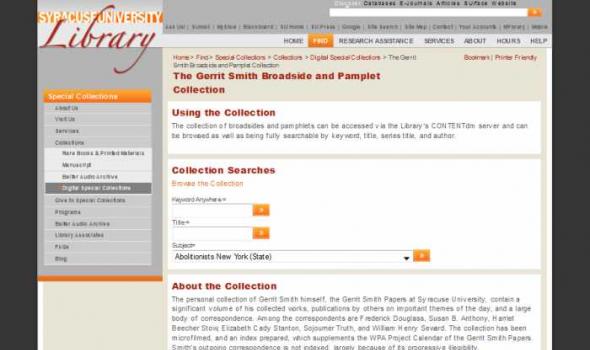 The Gerrit Smith Broadside and Pamplet Collection Using the Collection The collection of broadsides and pamphlets can be accessed via the Library's CONTENTdm server and can be browsed as well as being fully searchable by keyword, title, series title, and author. Collection Searches About the Collection Included among the publications authored by Gerrit Smith are various circulars, speeches, sermons, and tracts which deal with such topics as abolition, suffrage, temperance, transportation, and the postal system. With this project, we can now provide full text access to 214 of these important publications.
♥ 2
1,487 read
About - University of Oregon. Office of the Dean of Personnel Administration. National Japanese American Student Relocation Council Records 1942-1946 The National Japanese American Student Relocation Council was created by university administrators as a means of relocating Japanese American college students to other universities and colleges away from the West coast during World War II, and to prevent these students from being interned in government-run internment camps. At the University of Oregon, Karl Onthank, Dean of Personnel Administration, represented the University in relocating UO Japanese American students. The collection includes correspondence, newsletters, speeches, minutes of meetings, and ephemera.
♥ 1
894 reads
Walter B. Wriston (August 3, 1919 - January 19, 2005) was a banker and former chairman of Citicorp. An expert on commercial banking, Mr. Wriston wrote and spoke widely on topics relating to finance, banking, technology, and international business. Mr. Wriston's career at Citibank/Citicorp spanned nearly forty years. He joined the company in 1946 as a Junior Inspector in the Comptroller's Division. He was assigned to the bank's Overseas Division in 1956, heading the European District for three years, and was named a Senior Vice President in 1958. Mr. Wriston became President and Chief Executive Officer of the bank in 1967 and of the corporation when it was formed in 1968.
♥ 0
1,180 read