Category: History & Historiography, Diaries
3 results
Results
The Valley Project details life in two American communities, one Northern and one Southern, from the time of John Brown's Raid through the era of reconstruction. In this digital archive you may explore thousands of original letters and diaries, newspapers and speeches, census and church records, left by men and women in Augusta County, Virginia, and Franklin County, Pennsylvania. Giving voice to hundreds of individual people, the Valley Project tells forgotten stories of life during the era of the civil war.
♥ 4
3,958 reads
About Calisphere Calisphere is the University of California's free public gateway to a world of primary sources. More than 200,000 digitized items — including photographs, documents, newspaper pages, political cartoons, works of art, diaries, transcribed oral histories, advertising, and other unique cultural artifacts — reveal the diverse history and culture of California and its role in national and world history. Calisphere's content has been selected from the libraries and museums of the UC campuses, and from a variety of cultural heritage organizations across California. See the list of contributing institutions. Calisphere is a public service project of the California Digital Library (CDL).
♥ 1
1,042 read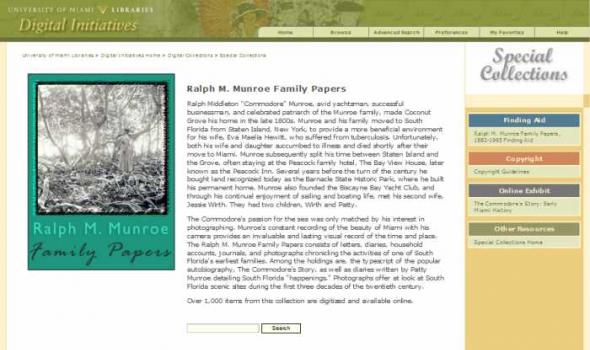 Ralph M. Munroe Family Papers Ralph Middleton "Commodore" Munroe, avid yachtsman, successful businessman, and celebrated patriarch of the Munroe family, made Coconut Grove his home in the late 1800s. Munroe and his family moved to South Florida from Staten Island, New York, to provide a more beneficial environment for his wife, Eva Maelia Hewitt, who suffered from tuberculosis. Unfortunately, both his wife and daughter succumbed to illness and died shortly after their move to Miami. Munroe subsequently split his time between Staten Island and the Grove, often staying at the Peacock family hotel, The Bay View House, later known as the Peacock Inn.
♥ 0
964 reads