Category: University of Southern California, Los Angeles
3 results
Results
About LA as Subject L.A. as Subject is a research alliance dedicated to preserving and improving access to the raw material of Los Angeles history. Much of the city's history is preserved in libraries, museums, and other cultural institutions. Other valuable and unique collections – those that reveal the stories of neighborhoods, families, and influential Angelenos – are scattered across Southern California, curated by smaller institutions and individual enthusiasts. With an online directory of more than 230 separate collections, L.A. as Subject ensures that researchers know what materials are available, where they are located, and how to access them. L.A.
♥ 0
1,435 read
- Auto Club Collection Description The Automobile Club of Southern California Digital Archive provides documentation on the region's transportation history, expecially Los Angeles from 1892 to 1963, from the Auto Club's Corporate Archives. The Digital Archive includes: a selection of 98 historic strip maps, illustrating the development of major Southern California routes; 498 photographs from the general photograph collection, depicting buildings, businesses, streets, and points of interest; and 650 photographs from engineering notebooks along with searchable transcriptions of the engineers' notes documenting the conditions of streets, highways, bridges, railroads, etc.
♥ 0
1,223 read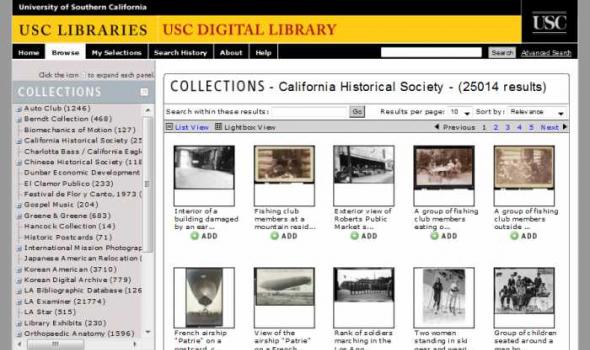 - California Historical Society Collection Description The California Historical Society Collection is incomparable for the documentary picture it provides of the growth of Southern California, particularly the development of the Los Angeles region, between 1860 and 1960. The collection contains more than 23,000 photographs. The full archive was placed on long-term deposit at USC in 1990 and includes the Title Insurance and Trust Company Collection, also known as TICOR, and the Los Angeles Area Chamber of Commerce Collection. TITLE INSURANCE AND TRUST COMPANY COLLECTION (1860-1960). The 17,000 photographs of this collection contain the work of C.C.
♥ 1
872 reads