Category: Philosophy, France
3 results
Results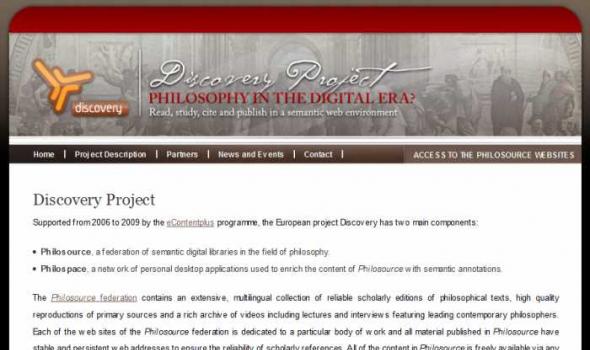 Discovery Project Discovery Project Supported from 2006 to 2009 by the eContentplus programme, the European project Discovery has two main components: The Philosource federation contains an extensive, multilingual collection of reliable scholarly editions of philosophical texts, high quality reproductions of primary sources and a rich archive of videos including lectures and interviews featuring leading contemporary philosophers. Each of the web sites of the Philosource federation is dedicated to a particular body of work and all material published in Philosource have stable and persistent web addresses to ensure the reliability of scholarly references.
♥ 0
1,148 read
was born May 28, 1894 in Sterling, Massachusetts. One of four children, Donald had an older sister and brother, Josephine and Malcolm, and a younger sister Jean. A graduate of Medford High School, class of 1912 and Tufts College, class of 1916, Donald turned his love of modern languages into a profession of school teacher. These two interests led him to France in 1920, onto Germany in 1922, and then back to France. He opened a school in 1924 in St. Cloud outside of Paris and firmly established himself in the realm of international education in France.
♥ 0
1,073 read
About this Project First published over the course of more than twenty years (1751-1777), the 32 volumes of the Encyclopédie include 21 volumes of text with more than 70,000 articles on subjects ranging from asparagus to zodiac. The remaining 11 volumes contain beautifully engraved plates illustrating many of the articles. The Encyclopédie was the major achievement of the French Enlightenment whose aim, in Diderot's words, was to "change the common way of thinking" through the expansion of knowledge and the development of critical modes of thought. The Encyclopédie was a collaborative project, the work of a "society of men of letters," as its title page declared. By the time the last volume was published, more than 140 people had contributed articles to its pages.
♥ 0
953 reads