Category: Science & Technology, Illinois
3 results
Results
From Alchemy to Chemistry: Five Hundred Years of Rare and Interesting Books This website grew out of an exhibit held at the University of Illinois at Urbana-Champaign Rare Book Room in April 2000. The Eastern Illinois Section of the American Chemical Society provided support for the construction of this website. The exhibit, "From Alchemy to Chemistry: 500 Years of Rare and Interesting Books," was co-curated by Tina Chrzastowski (Chemistry Librarian), Vera Mainz (Director, VOICE NMR Lab, School of Chemical Sciences), and Gregory Girolami (Professor of Chemistry).
♥ 0
391 reads
About Enrico Fermi Enrico Fermi (photo courtesy of Argonne National Laboratory) (From the Biographical Note, Guide to the Enrico Fermi Collection, Special Collections Research Center, University of Chicago Library) Enrico Fermi (1901-1954), Charles H. Swift Distinguished Service Professor of Physics at the University of Chicago, and 1938 Nobel Prize winner in physics, is best known to the general public for his leadership of the Manhattan Project team, which succeeded in obtaining the first controlled self-sustaining nuclear chain reaction. This experiment, which was carried out at the University of Chicago on December 2, 1942, made possible the development of the atomic bomb.
♥ 0
504 reads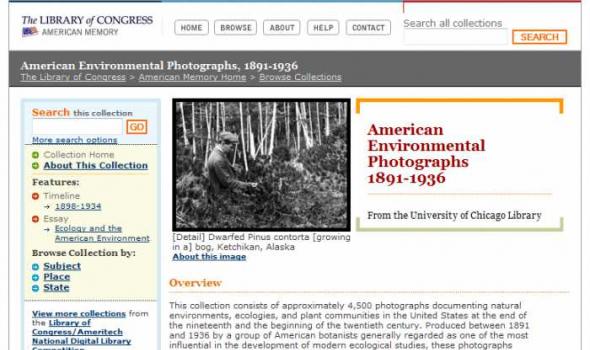 American Environmental Photographs, 1891-1936 Browse Collection by: Collection Connection Classroom resources for teachers About This Collection The images in the American Environmental Photographs Collection were created by faculty, staff, and students in the Department of Botany at the University of Chicago from the 1890s to the 1930s. Among the most active photographers contributing to the collection were Henry C. Cowles, George D. Fuller, George E. Nichols, Charles J. Chamberlain, Ira B. Meyer, Paul J. Sedgwick, William J. Cribbs, and Ezra J. Kraus. The earliest photographs in the collection were taken in 1891 in the arid desert landscapes of California, Arizona, Utah, and Nevada.
♥ 1
374 reads