Category: Photography, Letters
2 results
Results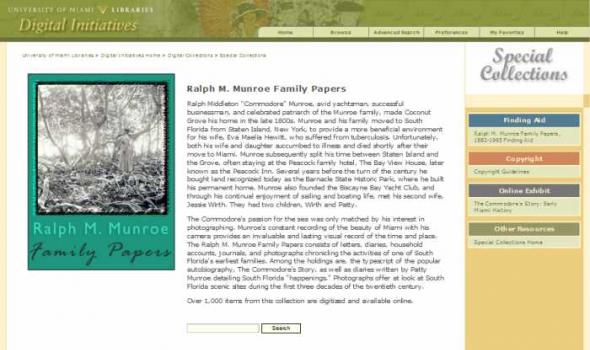 Ralph M. Munroe Family Papers Ralph Middleton "Commodore" Munroe, avid yachtsman, successful businessman, and celebrated patriarch of the Munroe family, made Coconut Grove his home in the late 1800s. Munroe and his family moved to South Florida from Staten Island, New York, to provide a more beneficial environment for his wife, Eva Maelia Hewitt, who suffered from tuberculosis. Unfortunately, both his wife and daughter succumbed to illness and died shortly after their move to Miami. Munroe subsequently split his time between Staten Island and the Grove, often staying at the Peacock family hotel, The Bay View House, later known as the Peacock Inn.
♥ 0
956 reads
The Kirk Papers is a collection of photographs and papers belonging to East Africa pioneer Sir John Kirk. It was acquired for the National Library of Scotland in 1998/1999 with the help of a grant of £55,000 from the Heritage Lottery Fund.
Though not as well-known as his friend and fellow-explorer David Livingstone, Kirk was a trail-blazer of empire in East Africa and a man of eminence in his day. Born in Barry, Angus, in 1832, Kirk qualified in medicine at Edinburgh University and then volunteered for medical service in the Crimea. An accomplished botanist, zoologist and diplomat, he was also a talented photographer. This is evident from the collection of over 250 photographs, many of them stunning.
♥ 0
882 reads