Category: Arts & Humanities, University of Southern California
3 results
Results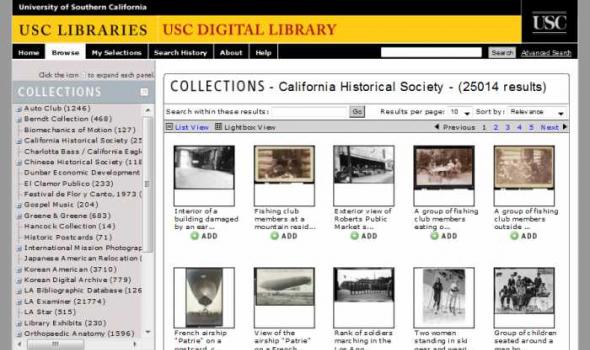 - California Historical Society Collection Description The California Historical Society Collection is incomparable for the documentary picture it provides of the growth of Southern California, particularly the development of the Los Angeles region, between 1860 and 1960. The collection contains more than 23,000 photographs. The full archive was placed on long-term deposit at USC in 1990 and includes the Title Insurance and Trust Company Collection, also known as TICOR, and the Los Angeles Area Chamber of Commerce Collection. TITLE INSURANCE AND TRUST COMPANY COLLECTION (1860-1960). The 17,000 photographs of this collection contain the work of C.C.
♥ 1
833 reads
- Berndt Collection Collection Description Jerry Berndt Collection is a collection of 774 photographs shot by Jerry Berndt. These photographs were created under the auspices of Center of Religion and Civic Center(CRCC), USC. Jerry Berndt is an American photojournalist based in Paris. His photographs are included in the permanent collection of the Museum of Modern Art (New York), the Museum of Fine Arts (Boston), the International Center of Photography(New York York), and the Bibliotheque National (Paris). This collection consists of two subcollections: Gateway Cities Photography Project and Soul of Los Angeles Collection. . The Gateways Cities Photography Project.
♥ 0
923 reads
The Greene & Greene Virtual Archives (GGVA) contains images of drawings, sketches, photographs, correspondence, and other historical documents related to the work of the architects Greene & Greene, the southern California design firm (active 1894-1922) that is often associated with the finest architecture and craftsmanship of the American Arts and Crafts Movement. Recent photographic documentation of the firm's furniture and other decorative arts is presented as part of the GGVA.
♥ 1
945 reads