Circus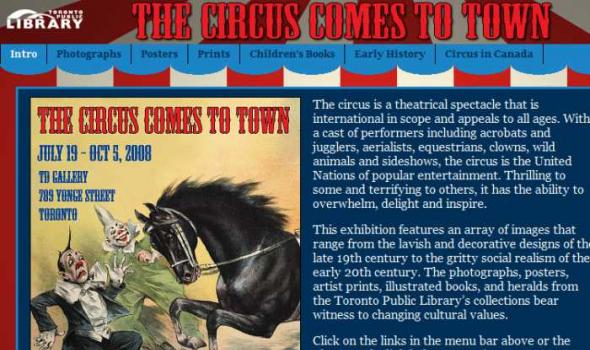 The circus is a theatrical spectacle that is international in scope and appeals to all ages. With a cast of performers including acrobats and jugglers, aerialists, equestrians, clowns, wild animals and sideshows, the circus is the United Nations of popular entertainment. Thrilling to some and terrifying to others, it has the ability to overwhelm, delight and inspire. This exhibition features an array of images that range from the lavish and decorative designs of the late 19th century to the gritty social realism of the early 20th century. The photographs, posters, artist prints, illustrated books, and heralds from the Toronto Public Library's collections bear witness to changing cultural values.
♥ 0
846 reads
Whether they are in the circus or the zoo, in the field, the stream or the air, on a dinner plate or an altar, animals have fascinated humanity from its earliest origins. Selected from Toronto Public Library's rare books, original art and postcard collections, this survey features prints from Audubon's Quadrupeds , images of wild and domestic animals as well as animals at play. Yes, animals are allowed in the library-roaming through thousands of pages, over hundreds of years.
♥ 0
1,193 read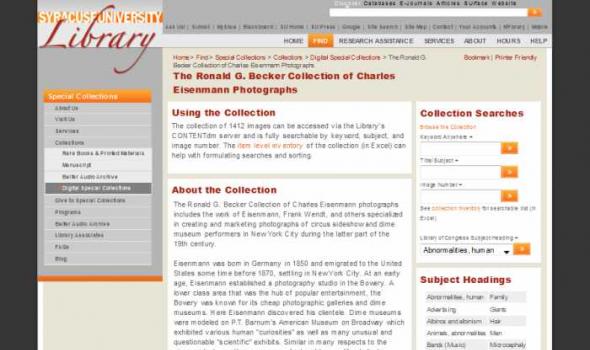 The Ronald G. Becker Collection of Charles Eisenmann Photographs Using the Collection The collection of 1412 images can be accessed via the Library's CONTENTdm server and is fully searchable by keyword, subject, and image number. The item level inventory of the collection (in Excel) can help with formulating searches and sorting. About the Photographs The most common method of photography during the 1870s and 1880s was the wet plate albumen process. Albumen prints are characterized by a warm sepia tone that distinguish them from later silver gelatin prints. Eisenmann's images are noted for particularly being sharp, clear, and well-posed. The most common formats were cartes de visite and and cabinet cards.
♥ 0
1,415 read