Advertising
Historical Collections Exhibit As new consumer markets developed following the Civil War, the advertising trade card met the need for an effective national advertising medium and heralded the arrival of an extraordinary variety of manufactured goods newly available to the American public. An exhibition organized by the Historical Collections Department of Baker Library. Search Catalog records for 1,000 of Baker Library's advertising trade cards, with accompanying digital images, are now available through the Visual Information Access (VIA) system, an online catalog of visual resources at Harvard. Baker Library holds more than 8,000 trade cards representing the full range of products and businesses advertised through this medium from the 1870s through the 1890s.
♥ 0
1,072 read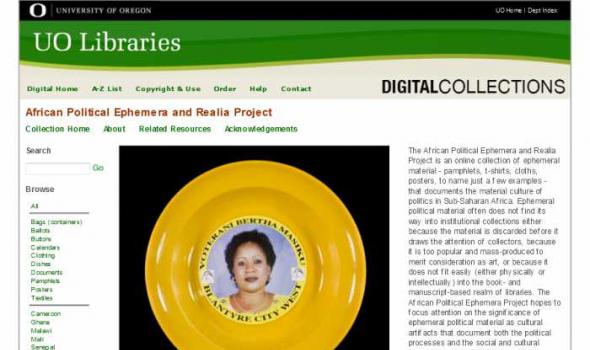 African Political Ephemera and Realia Project Search Browse The African Political Ephemera and Realia Project is an online collection of ephemeral material - pamphlets, t-shirts, cloths, posters, to name just a few examples - that documents the material culture of politics in Sub-Saharan Africa. Ephemeral political material often does not find its way into institutional collections either because the material is discarded before it draws the attention of collectors, because it is too popular and mass-produced to merit consideration as art, or because it does not fit easily (either physically or intellectually) into the book- and manuscript-based realm of libraries.
♥ 0
1,044 read
The John Johnson Collection About Introduction The John Johnson Collection is the product of a unique partnership between the Bodleian Library and ProQuest to conserve, catalogue and digitise more than 65,000 items drawn from the Bodleian's John Johnson Collection of Printed Ephemera. The project, which has been funded by the Joint Information Systems Committee (JISC) through its Digitisation Programme , broadens access to a wide array of rare or unique archival materials documenting various aspects of everyday life in Britain in the eighteenth, nineteenth and early twentieth centuries.
♥ 0
1,091 read