Bookbinding
History of Medicine Introduction The National Library of Medicine's Bathtub Collection is an archive of materials found in the old bindings when rare books in the Library were conserved. The materials found in the bindings include fragments of old printed books or manuscript materials which are often treasures on their own. In the Bathtub Collection, NLM has organized and described these fragments and made them available to scholars. The story of the Bathtub Collection begins in the middle of the last century. In the 1940's, The Army Medical Library, as the National Library of Medicine was then known, began a serious conservation program for its rare book collection. The AML hired Dorothy Schullian as curator of rare books and Jean Eschman, a master bookbinder from Switzerland.
♥ 0
1,056 read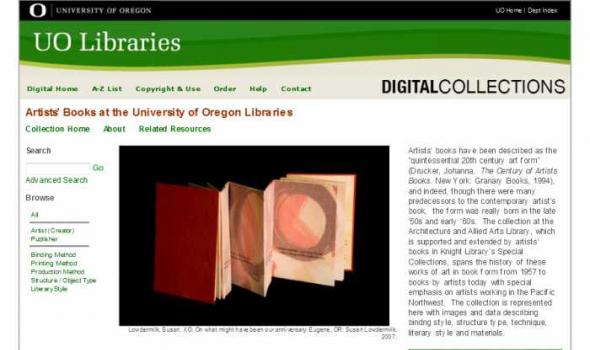 About - Artists' Books at the University of Oregon Libraries Artists' books have been described as the "quintessential 20th century art form" (Drucker, Johanna. The Century of Artists Books. New York: Granary Books, 1994), and indeed, though there were many predecessors to the contemporary artist's book, the form was really born in the late '50s and early '60s. The collection at the Architecture and Allied Arts Library, which is supported and extended by artists' books in Knight Library's Special Collections, spans the history of these works of art in book form from 1957 to books by artists today with special emphasis on artists working in the Pacific Northwest.
♥ 0
969 reads
This site presents digital reproductions of images from the University Archives and from rare books and manuscripts held by the Cornell University Library. The images are delivered via Luna Insight® image browser . Please adjust your browser to allow pop-up windows before attempting to launch the collection. If you continue to experience technical difficulties, please report your problem to vrhelp-l@cornell.edu . For reference questions, please complete our reference form . For questions or comments about this website, send E-mail to rmcweb@cornell.edu .
♥ 0
1,103 read