Current affairs
About The Oregon Daily Emerald (ODE) Archives is a full text searchable database of past ODE issues. The current collection began with issues in September 2005. At this time, there are no plans to digitize older issues of the Oregon Daily Emerald. An Oregon Daily Emerald Photograph Archives is coming soon. ODE Photographs can be purchased from ODE at http://reprints.dailyemerald.com . All material is copyrighted by Oregon Daily Emerald Publishing Co., Inc. Visit the Oregon Daily Emerald website. Last revision: 10/09/2011 1501 Kincaid Street, Eugene, OR 97403-1299 | T: (541) 346-3053 | F: (541) 346-3485
♥ 1
1,023 read
This digitization project of these two newspapers is the first ever undertaken by the Cheng Yu Tung East Asian Library.
In April 2004, the National Institute of Korean History (NIKH) approached the Library to propose the digitization of one of the East Asian Library's holdings: Minjoong Shinmoon. This was part of the NIKH's five-year project begun in 2001 to collect historical materials relating to Korean history published overseas. After reviewing our Korean collection, the Library also suggested including The New Korea Times in the same project.
The National Institute of Korean History is a South Korean government organization responsible for investigating, collecting, and compiling historical materials.
♥ 0
1,583 read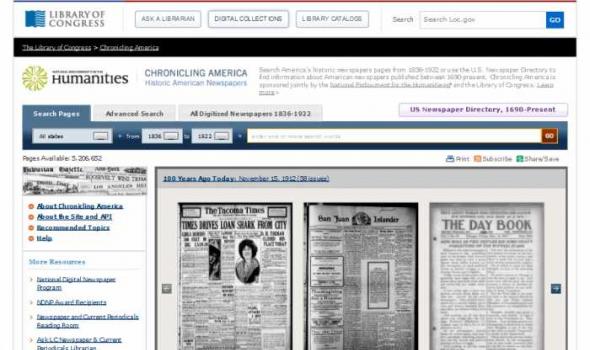 Chronicling America: Historic American Newspapers Search America's historic newspapers pages from 1836-1922 or use the U.S. Newspaper Directory to find information about American newspapers published between 1690-present. Chronicling America is sponsored jointly by the National Endowment for the Humanities external link and the Library of Congress. Learn more Pages Available: 5,206,652 About Chronicling America Chronicling America is a Website providing access to information about historic newspapers and select digitized newspaper pages, and is produced by the National Digital Newspaper Program (NDNP).
♥ 3
1,974 read