Ethnology
American Indian History and Culture The Division of Rare and Manuscript Collections features significant original materials on the history of native peoples of the Western hemisphere. Thousands of rare books document Indian life-ways, and manuscript materials provide documentation of the work of anthropologists, collectors, and ethnologists. The centerpiece of Cornell's American Indian holdings is the Huntington Free Library Native American Collection , a spectacular gathering of more than 40,000 volumes on the archaeology, ethnology and history of the native peoples of the Americas from the colonial period to the present.
♥ 0
1,057 read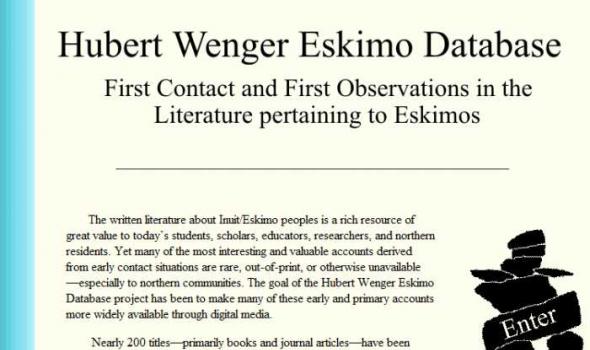 The written literature about Inuit/Eskimo peoples is a rich resource of great value to today's students, scholars, educators, researchers, and northern residents. Yet many of the most interesting and valuable accounts derived from early contact situations are rare, out-of-print, or otherwise unavailable—especially to northern communities. The goal of the Hubert Wenger Eskimo Database project has been to make many of these early and primary accounts more widely available through digital media.         Nearly 200 titles—primarily books and journal articles—have been included in the database and are uniformly searchable with powerful text-retrieval software.
♥ 1
1,745 read
The Douglas Oliver Collection WELCOME TO THE DOUGLAS OLIVER COLLECTION. Douglas Oliver (Feb. 10, 1913 - October 30, 2009) completed a B.A. at Harvard in 1934 and and a DPhil in Ethnology at the University of Vienna in 1935. Between 1936 and 1941, he was a research associate on the staff of Harvard's Peabody Museum of Ethnology and Archaeology. Between 1938 and 1939, Oliver conducted research on Bougainville, among the Siwai (a.k.a. Siuai) people. The majority of these images derive from that period, and were donated to the Pacific Collection following Dr. Oliver's death in 2009. Image Courtesy Wikimedia Commons Related Information : Association for Social Anthropology in Oceania, Winter 1990 "Douglas L. Oliver, 1913-2009"
♥ 6
3,402 reads